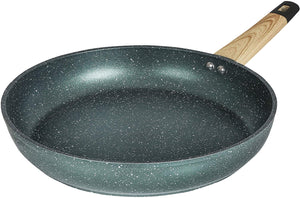 Feature of the Week : Frying Pan for Spaghetti Sauce with Ground Beef
Today we'll be taking a look at our Art of Cooking 12" Granite Nonstick Frying Pan.
The Art of Cooking nature series features a 12" Granite Nonstick Coated Cast Aluminum Frying Pan with a cast aluminum body design, making it much more durable than forged aluminum and much lighter than cast iron.
Its granite non-stick coating has natural stone elements, making the non-stick layer highly scratch resistant. The pan is also dish washer safe, and induction compatible!
The Art of Cooking Granite Nonstick Frying Pan comes in three stunning colors: Canyon Red, Ocean Blue, and Forest Green.
Its wide diameter, at 12 in., and deep sides at 2.23 in. make it the perfect pan for sautéing, stir frying, and pan grilling enough for the whole family.
Which makes it the perfect frying pan to use for this week's recipe. 


A meal that perfect for a family dinner, a potluck, or to meal prep for the week - in only 2 steps.
Spaghetti Sauce with Ground Beef
Ingredients
1 pound ground beef
1 onion, chopped
4 cloves garlic, minced
1 small green bell pepper, diced
1 (28 ounce) can diced tomatoes
1 (16 ounce) can tomato sauce
1 (6 ounce) can tomato paste
2 teaspoons dried oregano
2 teaspoons dried basil
1 teaspoon salt
½ teaspoon black pepper
Step 1
Combine ground beef, onion, garlic, and green pepper in a large saucepan. Cook and stir until meat is brown and vegetables are tender. Drain grease.
Step 2
Stir diced tomatoes, tomato sauce, and tomato paste into the pan. Season with oregano, basil, salt, and pepper. Simmer spaghetti sauce for 1 hour, stirring occasionally.
And you're done! Simple as that! You have yourself a meat sauce perfect for spaghetti, lasagna, and ravioli.
You can purchase the Art of Cooking 12" Granite Nonstick Frying Pan by clicking here!
---